Chateau du Trichot Wedding / Anniversary Reception Hall
Alternative Table Layouts>> Back to details of Chateau du Trichot >>
A huge barn, next to Chateau du Trichot, is available as a useful reception area for weddings and other celebrations. It is on two levels, and there is a solid floor at ground level, most suitable for banqueting or other entertainments, with a raised area* at one end, often used for the "High Table" and speeches. The upper level, accessed by an elegant stone staircase, more than doubles the available space. It has a new polished wood floor and makes a genererous ballroom, or simply an extension which overlooks the ground level. (The upper level can also be accessed directly from outside) The authentic feel of a beautiful stone building is enhanced by trompe l'oeil balustrading and soft uplighting.
*Since these photos were taken, the raised area referred to above has been enhanced with a polished wood floor, two steps up. This improves visibility for speech-makers and entertainers.
Tables and chairs for 120 or more are available on-site, and we can put you in touch with local caterers or complete 'wedding organisers'. For smaller numbers there are round tables, which take up more space but may be preferred by some. For a typical wedding, drinks might be handed out inside Trichot's courtyard, so that guests can explore the grounds before entering the dining area.
The original barn entrance is a high arched opening, furnished with a marquee-style window that can be raised and lowered according to requirements.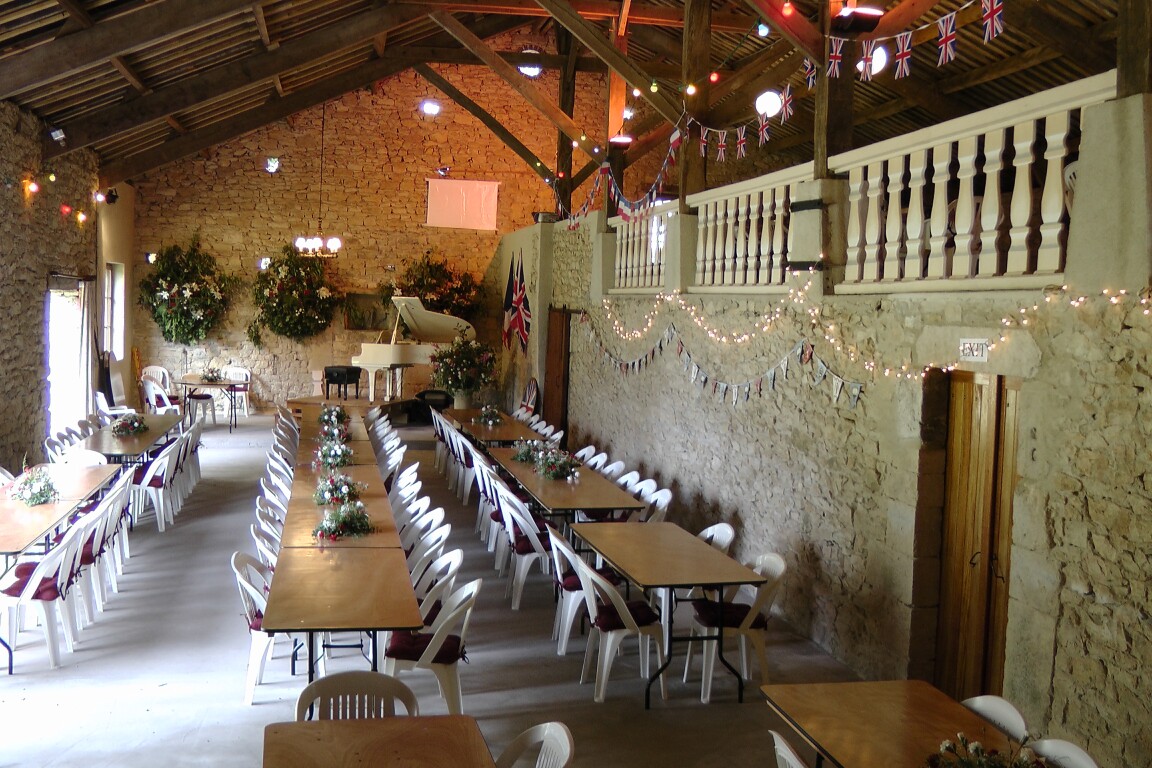 Dimensions: Downstairs : 22.6m x 6.8m (150m2) Upstairs: 27m x 6.8m (180m2)